EBP Concussion Prevention and Management in Athletics: Effective Safety Assessment and Return-to-Play Strategies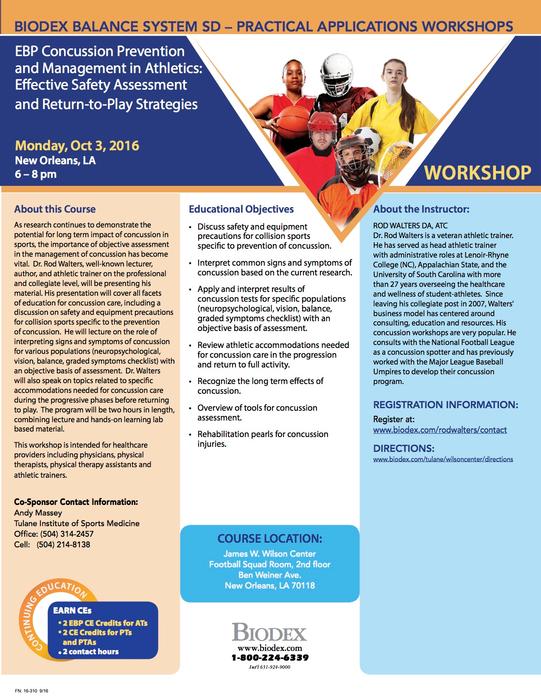 James W. Wilson Center, Ben Weiner Avenue, New Orleans, LA 70118
Educational objectives:
Discuss safety and equipment precautions for collision sports specific to prevention of concussion.
Interpret common signs and symptoms of concussion based on the
current research.
Apply and interpret results of concussion tests for specific populations (neuropsychological, vision, balance, graded symptoms checklist) with an objective basis of assessment.
Review athletic accommodations needed for concussion care in the progression and return to full activity.
Recognize the long term effects of concussion.
Overview of tools for concussion assessment.
Rehabilitation pearls for concussion injuries.
Target audience: This workshop is intended for healthcare providers including physicians, physical therapists, and athletic trainers.
Schedule and format: Lecture and associated lab.
Fee(s): No charge.
Refund/cancellation policy: N/A
Credentials of the instructors: Rod Walters is the instructor. He is a certified athletic trainer. His undergraduate and masters degrees are from Appalachian State University, and his doctorate is from Middle Tennessee State University.
Number of contact hours/CEUs: 2 EBP CEUs with Board of Certificatation. The Louisiana Physical Therapy Therapy board has approved this course for 2 CEUs. The course title and number of contact hours will be posted on the board's website for licensees who may be looking for a course and/or to view the number of contact hours awarded by the board.
Level of difficulty: Moderate
10/03/16
6:00pm - 8:00pm
register
Concussion Management Seminar
Lawrence General Hospital Outpatient Rehab, 25 Marston St, Suite 106, Lawrence, MA
As research continues to demonstrate the potential long term impact of concussion in sports, the importance of objective assessment in the management of concussion has become vital. Rod Walters, DA, ATC, well-known lecturer, author and athletic trainer on the professional and collegiate level, will be presenting practices related to current research in concussion prevention and management.

Educational materials will be presented in a didactic and visual environment to enhance the attendees' knowledge base.
Identify safety precautions and equipment for collision sports specific to concussion prevention
Determine common signs and symptoms of concussion in reference to current research
Interpretation of concussion tests results for specific populations (neuropsychological, vision, balance, graded symptom checklist) and formulate an objective assessment
Assess athletic accommodations needed for concussion care during the progressive phases before returning to play
Recognizing the long-term effects of concussion
Effectively utilize the wide overview of tools for effective concussion assessment
The program is 3 hours in length, with 2 hours of lecture and an additional hours of interactive laboratory time emphasizing baseline and postinjury clinical assessment of concussed patients.
This workshop is eligible for three BOC Category A CEUs.
11/12/16
8:00am - 11:30am
register
Evidence-Based Assessment of Hamstring Injuries, Appropriate Intervention and Effective Prevention Strategies; Evidence-Based Concussion Prevention and Management in Athletic; and Evidence-Based EAP for Safer Sports
Lawrence, KS

1/10/17 - 1/11/17
9:00am - 12:45pm
register